The Exmoor Centre is a remote residential centre in the Hoaroak valley near Lynton & Lynmouth where young people and families can enjoy being in the heart of Exmoor. Situated beside Hoaroak Water with direct access to open moorland we have inside dormitory accommodation for fourteen and in the grounds camping for sixteen or so more. The property is divided so that most of the grounds will remain wild; there is a securely fenced area bordering the river which is the site of the bunkhouse itself.
ST MARY LYNCOMBE EXMOOR TRUST, own the property and became a registered Charity in 2009. Its purpose is to manage and conserve the area and to provide the opportunity of staying on Exmoor in an isolated situation. As Trustees  we must apply the income of the charity "to promote the physical and mental wellbeing of children, young people, families and adults through the provision of outdoor experience within the National Park of Exmoor".
Established under the will of Dora Cartwright-Williams, it was her wish to see a centre for young people in the Hoaroak Valley in memory of her husband  and their life together on Exmoor. Their home in the valley was swept away in the floods that engulfed Lynmouth in August of 1952. The Centre was originally financed and built by the Parent Teacher Association of Ilfracombe Grammar School and opened in 1968.
Today the Trustees are still under the watchful eye of John Gale, one of the original Trustees, retired former head of Ilfracombe Comprehensive School (now Ilfracombe Academy) and now our President.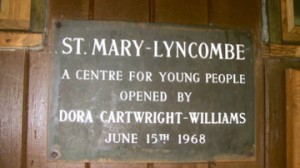 FOLLOW US on Twitter – @ExmoorCentre
FOLLOW US on Facebook – https://www.facebook.com/ExmoorCentre
ST MARY LYNCOMBE EXMOOR TRUST – Reg Charity 1137788