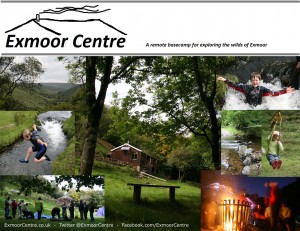 The Exmoor Centre Bunkhouse sleeps 10 people in two bunkrooms of 6 and 4 wooden bunks. Outside there is space for more people camping.
The mission of the StMary Lyncombe Exmoor Trust is to provide cheap accommodation for young people to explore the wilds of Exmoor.  Anyone can book the bunkhouse and costs start from as little as £75/night. Our main users now are family groups and groups of like minded people such as Mountain Bike, Hiking and Wildlife Clubs. Please enquire via email with as many details of your group as possible and we will do our best to make your stay as economical as we can.
The Trust do subsidise some groups to stay in conjunction with local philanthropic societies. We also offer free experience days in conjunction with other organisations such as Bushcraft Days. We are always interested in helping to get young people out to Experience the wilds of Exmoor so please email us if you need some help with your group.
We have several excellent local activity providers who can arrange adventures for you during your stay, from relaxing art sessions, through Foraging to extreme sports such as Coasteering.
Due to us having 'proper jobs' as well as managing the Exmoor Centre our phone isn't permanently manned. We don't carry the booking diary with us so please send us an email to enquire and we will get back to you as soon as we can.
Telephone 07532 264 184
Email Stay@ExmoorCentre.co.uk
Link to Booking Form to print out or email to us: Booking Form 2021
Access to the bunkhouse is on foot via a bridleway (1km), there is no vehicular access to the site. We are able to transport any luggage or equipment for you by Land-Rover for a small fee by prior arrangement.